Home | WLYN | WMBR | Boston Groupie News | Punk Photos | MP3's | Links
Jonathan Richman | Dogmatics Photo | Paley Brother's Story
Boston Sound Home Page
The Beacon Street Union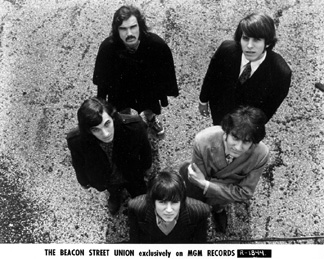 I saw the Beacon Street Union many times. They were my favorite group at the time when I would see them I would stand right up front. I always thought they must have wondered who I and my friends were. Live they sounded much like the records. John Lincoln Wright the singer had a real presence. He always wore a pouch on his belt which we fantasized was dope or 'drug gear'. Just an outrageous thing for the day.
Members met when they attended Boston College together. Boston College borders Beacon Street, hence the name.
The Union had a few stage tricks. Sometimes they would throw bags of flour around resulting in a low budget fog show. They always fooled me with this next trick no matter how many times I saw them. They would come on stage and we would all clap and yell. They would start plugging in and tuning up. It seemed to take a long time. Eventually your attention would drift and you would just talk to your friends. At some signal the whole band would slam into the opening chord to My Love Is at full volume and SCARE THE BEJEEBERS OUT OF YOU.
The BSU were constantly gigging playing High Schools, colleges and clubs. They were signed to MGM by Wes Farrell (Partridge Family connection here) in 1967.
The First Album...TheEyes of the Beacon Street Union.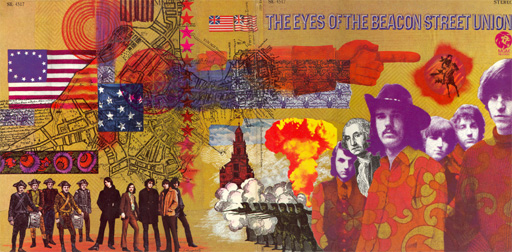 Again I have to admit that my critical facilties are impaired by the fact I listened to this first album a million times back in the day and just loved it. It has been critisized many times in many different ways; some say it is too eclectic. I say, "What?". Isn't eclectic a positve thing in a rock context of the 60's? It shows creativity and talent. Groups were trying to be eclectic. Miss-directed criticism, I say.
The Eyes of the Beacon Street Union released in March 1968. The album starts with the mood setting recitation. It's all a bit fuzzy in meaning. I assume it's establishment bashing. It was an effort to present the album as a unified package rather than twelve unrelated tracks - a concept that was in the air in 1967-68.
My Love Is kicks in with a major chord and is followed by some cymbol and feedback ping-ponging from speaker to speaker - a real neat intro all around.The song is a catchy upbeat number. We loved this big time back in the day.
Beautiful Delilah a Chuck Berry number via the Kinks, has been critisized mightily as being out of sync with the rest of the album but groups in this period often would cover one 'oldie' from the fifties to show they knew where it all came from. The BSU did this again on the second album with Blue Suede Shoes. In both cases these were live favorites. Instruments switch from left to right speaker throughout the song making it a fun listening experience.
The Sporting Life, I believe, came from a Willie Nelson or Loving Spoonful version. Critics have damned it as another mood breaker but we didn't have trouble with it in the day. It shows the direction the singer John Lincoln Wright took as a Country and Western singer after the BSU.
Four Hundred and Five is an experimental instrumental using tape manipulation like Les Paul. The song shows how the band was always looking for interesting ways of presenting songs.

Side two has six good songs in a row. As locals we were thrilled that one song had a local referance, The South End Incident. The South End Incident is very dramatic and captures a foreboding sense of fear. Generaly speaking all the songs here have a dramatic element to them. Good lyrics along with Wright's solid singing are to credit here.
As a whole the engineering is top notch. The stereo panning all through the LP is an ear treat. Time Magazine thought this also - CLICK for Time Magazine, May 1968 reviews. I would also draw your attention to the guitar fuzz tone used to great effect throughout. The group playing is tight, obviously well rehearsed. After listening to side two especially I find it hard to believe people had a problems with this. It' s a solid effort by a good group.
In concept and execution the BSU's second album cover was head and shoulders above the rest.

| | |
| --- | --- |
| | |
The second album The Clown Died In Marvin Gardens again was critically assaulted. I was thrilled with it from the cover to the arrangements. It seemed like someone had put time and money into the affair. It was thrilling for a fan to see this group be lavished with production efforts. The orchestrations by Larry Fallon were lush and fully integrated to the songs.
The album begins with The Clown Died In Marvin Gardens. A fully blown metaphor of life as a surrealistic Monopoly game. The follow up song The Clown's Overture is a soothing orchestral wash. A perfect come down after what should be an intense experience of the opening song. Then the orchestra leads you into Agnus of Aberdeen a dramatic ballad of childhood lost. Thus ends a trio of songs united by common orchestra arrangements that have the earmarks of 'concept' on them. Nicley done, but no concept is apparent and it's not successful in that way.
A cover of Blue Suede Shoes breaks the unified feel and reminds you they are ROCK after all.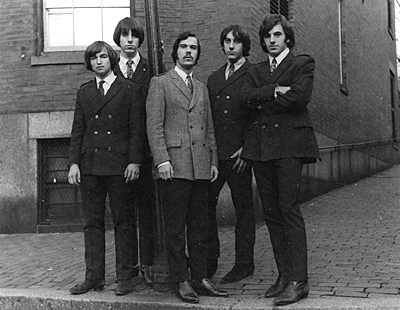 May I Light Your Cigarette? is an innovative mood piece. It is built up on layers of heavily tremoloed guitars almost exclusively. Wright does a Morrison-stlye monologue which never seems to add up to anything. The cut fails as a song but shows the group's efforts to be experimental and creative. This is always dangerous as a 'product' to sell to the public but can be essential to group creativity in the long run. It shows that they had plenty of ideas and should have had time to develop them but this was the second and last album so that would never happen.
The album ends with the 16;34 minute Baby Please Don't Go. This was a live favorite of the band (and many other groups in the sixties) and is a showcase for the band playing. It works that way and gives you a good idea of what they did live.
Although they never recorded another album, this effort shows them to be a healthy creative unit who have progressed as a group. It would have been nice to get more material from them.
The Beacon Street Union line up was John Lincoln Wright - vocals, Paul Tartachny - guitar/ vocals, Robert Rhodes - keyboard, Wayne Ulaky - bass/ vocals, Richard Weisburg - drums.
After listening through both albums you begin to appreciate the bands writing and playing strengths. They make sure each song is paced correctly with dynamics and solos inserted where needed. The songs always have very strong melodies and substantive lyrics. Often the songs are moody and evoke a time, place or emotion. The songs often build slowly in a deliberate pace to the crescendo at the end illustrating how they must have worked on the arrangement. The instrumental solos always sound crafted, being melodic rather than just aimless riffing. It's nice to see these things now and realize that they were as good as I remember them and they were worthy of the attention I gave them back in the day.
After the second LP a single came out on MGM called Hey, Mayola which has ended up on a compilation. Even more obscure is a single on the RTP label (Rik Tinory Productions). Rik Tinory is a local producer with his own recording studio in Cohasset, MA,. It's still very active and was where Aerosmith recorded Pump. There is more info on their web site... Rik Tinory Recording Studio website. So, here we have the only effort outside of MGM and Wes Farrel's oversite.
The single is Lord Why Is It So Hard/Can't Find My Fingers. Both sides have sax on them which is a surprise. One mention has the name of this sax player as Charlie Vatalaro. Wayne Ulaky and John Linclon Wright are still there and it also features Paul Donsanto who was the quitarist in these late days for the band. He's pretty good too. He latter had an independent single in 1981 as the Paul Donsanto Group. The familiar BSU elements are here (i.e. good songwriting, arrangements and playing) but don't cohere in this effort. An interesting single but not essential for the casual fan.
This is the official Beacon Street Union MYSPACE page active still as of 2013.
There are three LIVE tracks on the page!
John Lincoln Wright went on to become a beloved Boston musician. He had a career as a Country and Western singer doing everthing as an independent. John died on December 4, 2011 Obituary of John Lincoln Wright in the Boston Gobe.
Eagle
Sort of a lost album and a lost link is the 1970 album Eagle. John Linclon Wright, Richard Weissberg and Ulaky from the BSU are in this group with Robert Rosenblatt on keyboards. The post BSU album is produced by Wes Farrell who also did the BSU albums. Wright's singing is even stronger here and he co-wrote almost every song. The production is stripped down and the songs are more staight ahead with no psychedelic edge to them at all. They do a song called Dance On Little Beauty that sounds like a fifties rocker. It's like they are continuing the BSU tradition of throwing in an oldie.
Locals get a kick out of the cover which is the ticket office of the old Music Hall (Now the Wang Theatre.). Janus Records JLS 3011.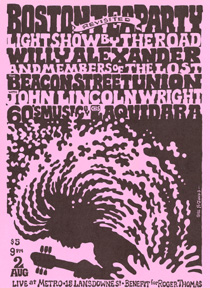 This is a handbill from a Beacon Street Union reunion in 1982 I believe. I was very excited at the prospect of seeing BSU again. They were very good. Maybe even tighter than they were in the old days. I don't know what the line up was. There was very little buzz about this concert and no reviews of it that I know. The gig did have good attendance.
People just didn't seem to care too much. I guess that's the level of interest. I mean you see all the advertising I'm getting on this site, right?
Reality is a harsh mistress.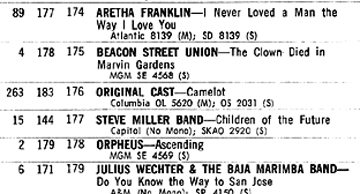 The BSU is right near Orpheus on the Billboard charts on 10/5/1968.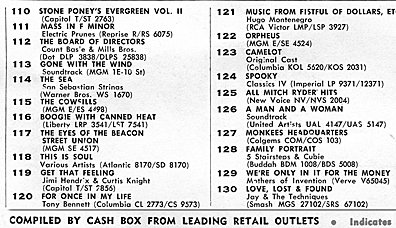 The BSU is at 117 and Orpheus at 122 on the Cashbox chart on 3/2/1968.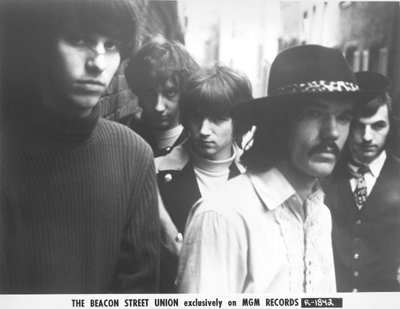 A promo picture.
You can see that this was the same session
that produced the band picture used in the first LP cover.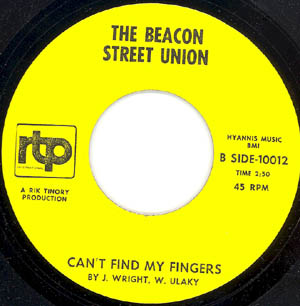 The last single non-MGM.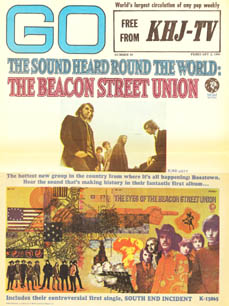 BSU make the cover of GO Magazine 2/2/1968. This was a free giveaway mag. There is no article on the inside, a common practice of theirs.
They proclaim. "The hottest new group in the country from where it's all happening:Bosstown. Hear the sound that's making history in their fantastic first album. Includes their controversial first single, SOUTH END INCIDENT"
I never heard of any controversy and they don't say what it was;the lyrics one assumes.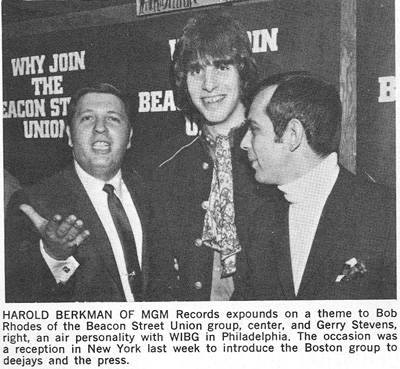 Bob Rhodes doing a promo stint.
Billboard 3/23/1968.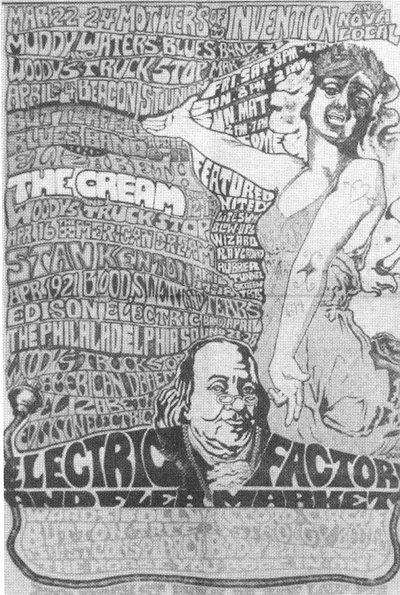 Ad for the Electric Factory in Philadelphia
The ad covers the end of March and April of 1968
BSU is playing 4/2 to 4/4
Close up view below.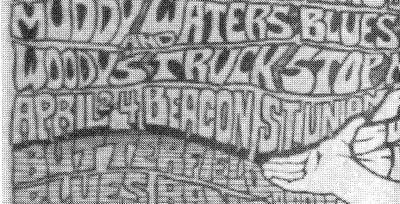 From Billboard 12/9/67. I never heard of TWANG.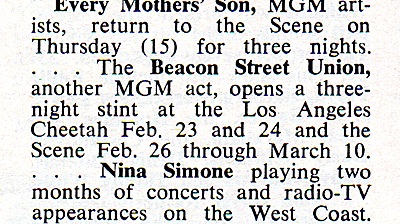 From Billboard 2/10/68. The BSU playing the Cheetah in NYC.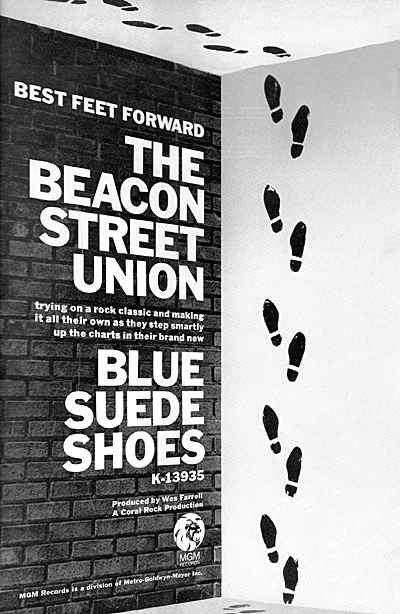 February 17, 1968
Ad in Cashbox Magazine.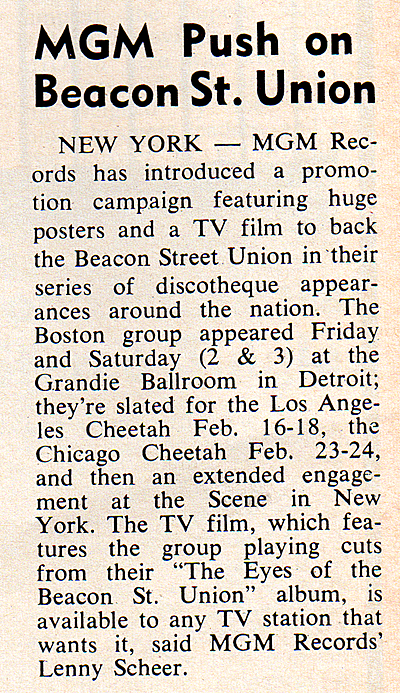 February 10, 1968
Hippie media put down the Bosstown Sound advertising but it looks like they were just doing their job trying to get attention for the groups. This is a good push for the BSU.

May 25, 1969
This is a newspaper TV listing of the show with Ken 'The Hawk' Harrelson as host and the BSU as quests.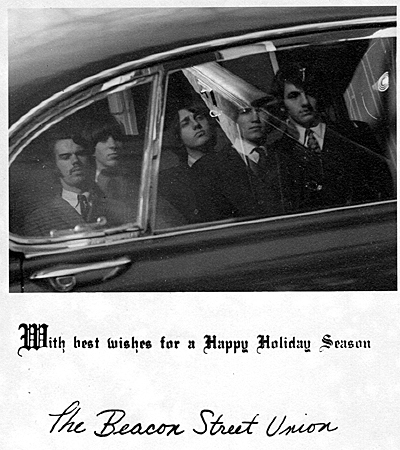 Review in Billboard 8/31/68
They liked it.
Take that you negative Nellies!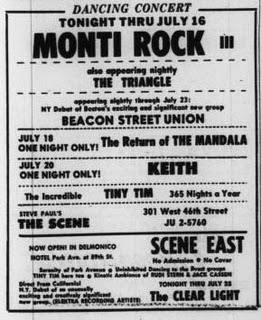 The BSU talk of their time in NYC at Steve Paul's The Scene where they had a residency. Here's an ad showing that. from the Village Voice 7/13/1967.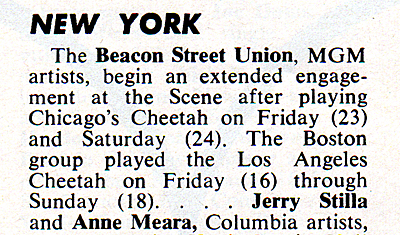 From Billboard 2/24/68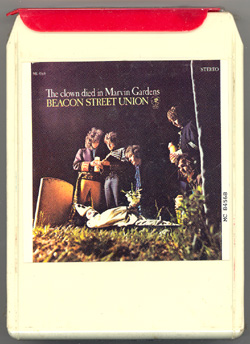 The dreaded format.
The 8 Track version of the second LP.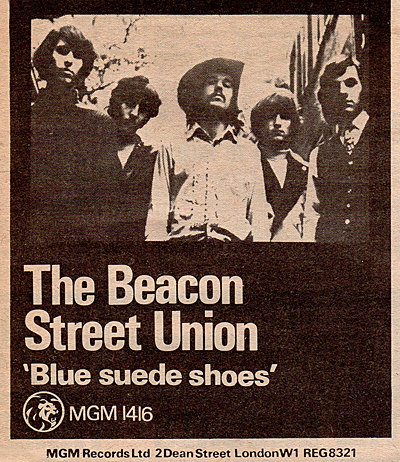 BSU ad from an English paper.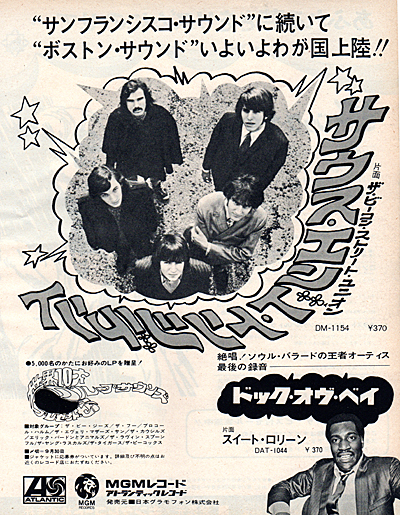 BSU ad from Japanese magazine. Maybe for "The South End Incident".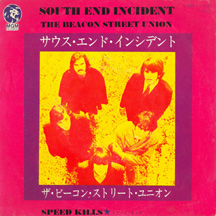 BSU single from Japan.

A Spanish labeled single from Argentina.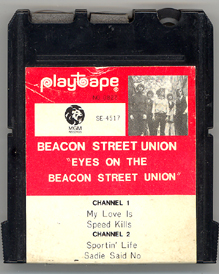 Four songs from the first LP on a Playtape cassette. Now, you're asking, " What's a Playtape?" Info on PLAYTAPE.
---
Wes Farrell - Producer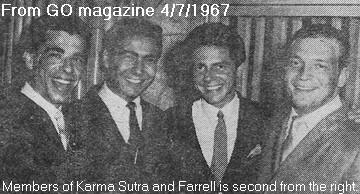 Wes Farrell was a well known producer/song writer by the time he got to the Beacon Street Union. He would latter produce the Partridge Family.
Below is an article from Billboard 10/5/1968. Tony Romeo was one of the main writers of the Partridge Family tunes and co-wrote Hey, Mayola with Farrell for the BSU.
Farrell himself wrote Hang On Sloopy.
Farrell Plan Offering Writers Full Musical Representation


NEW YORK - Wes Farrell is developing a "creative development program" for his Pocket Full of Tunes music publishing complex. According to Farrell, the "creative development program" will give writers under contract to his multifaceted organization the additional representation of their material in the motion picture, TV and Broadway show areas along with the strengthening of full representation in, the pop music field.

Tony Romeo, writer of the Cowsills' "Indian Lake" and "Poor Baby," is under exclusive contract to Pocket Full of Tunes, and is now being directed into all creative musical outlets. Romeo, the subject of the publishing organization's first big drive, will be represented with a slick folio of all his current compositions. This folio will be distributed in the motion picture, TV and Broadway fields along with the normal pop music channels.

Also in the newly announced program as exclusive writers to Pocket Full of Tunes are songwriters Paul Tartachny, John Wright and Wayne Ulaky, of the Beacon Street Union, and Larry and Dean Larden of Every Mother's Son. In addition, Pocket Full of Tunes publishes songs by Farrell himself, composer of "Hang on Sloppy" and "Come on Down to My Boat," among others.

Farrell has started negotiations for the music rights of upcoming motion picture and TV productions to fully implement the "creative development program." He's also adding new songwriting talent to his publishing firm's roster.
Boston Sound Home Page
Home | WLYN | WMBR | Boston Groupie News | Punk Photos | MP3's | Links
Jonathan Richman | Dogmatics Photo | Paley Brother's Story
Copyright © 2006 Paul Lovell. All rights reserved.