..........................
PAUL "BLOWFISH" LOVELL
Jonathan Paley and The Paley Brothers
Happening Lately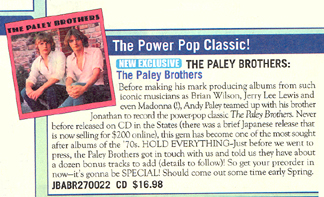 The February catalog of Collectors' Choice Music had the Paley Brothers' LP listed to be released on CD. Then added that the Paley's got in touch with them and they were going to add a DOZEN bonus tracks. The targeted spring release never happened. As of 11/2009 Jonathan says they are still working on it.

As we have previously posted they have a version of "Baby, Let's Stick Together" recorded with Phil Spector at Gold Star Studios with The Wrecking Crew backing them up. Jonathan says it's the best thing Spector has done since his heydays in the 60's.
They have a remixed Paley/Ramone track and things they have done through the years up to the 90's

Jonathan's daughter Violet is in a group now.
They have a video on YouTube. The blurb reads: Violet & Anya are two teens from Southern California with a soon to be released vinyl 45 record on Ramo Records. It's a power pop, slightly punky version of the old country classic, "Ballad of A Teenage Queen" on Ramo Records. Violet & Anya on YOUTUBE.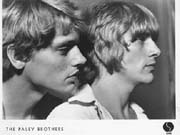 The Paley Brothers story has not been told to any extent that I know of anywhere. I couldn't find anything satisfactory on the internet even now. I saw the Paley Brothers in different forms in the 70's. I have been privileged to get some amazing photos from Jonathan Paley and will take this opportunity to show those and tell what I know.
One good thing is that the album The Paley Brothers is there to prove their greatness. The Paley Brothers were purveyors of gorgeous pop and the LP displays that.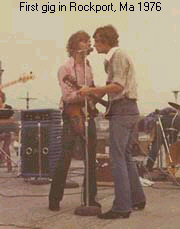 On the Boston Punk scene in the early seventies I began to hear rumors. These two brothers, The Paley Brothers, had a group and sounded great. The group had some Nervous Eaters involved and Eric Rose was in the group. This couldn't fail to impress. The Eaters were punk gods and Eric Rose was the guitarist from the legendary and underappreciated group The Sidewinders (now that's another story). This was like the punk Dream Team.
What I didn't know then was the unparalleled vocals they were capable of and the superlative songwriting.. It wasn't long before I found out.
The album was shockingly good. Pop you could just sink into. To make it more unbelievable this was in the middle of the punk explosion. Greg Shaw has a theory, which I also subscribe to, that there was a pop revival in the making when the Punk Explosion came and steam rolled over it. The Paley's were a victim of this.The Flaming Groovies and Blondie would be the high profile examples of pop that slipped though punk.
Before the Paley Brothers Jonathan had been in bands in New York City. One was called Dig It and one was called The Doo Wops, The Doo Wops were a cover band that played mostly bars and parties in Brooklyn. Later he was in a band called Mong (Picture of Mong)which was centered on CBGB's. Mong had Steve Warren on bass and Barry Marshall on drums. This was during the early punk days and Mong opened for Television, Tuff Darts, Wayne County, etc.
Steve Warren has supplied some interesting facts and stories that fill in details on Mong and early Paley's...Click for Steve Warren stories.
Barry Marshall had a group The Marshalls that included his brothers and did some fine pop things themselves in the seventies. Here's a version of the group with Kenny , Keven, Jonathan Paley, Eric Rosenfeld and Barry on drums... The Marshalls.
Barry Marshall is still a busy guy.....Barry Marshall's site.
A little known fact is that Jonathan did rehearsals with The Hearbreakers around this time. Jonathan says that Johnny Thunders and Richard Hell really wanted him in the band but Jerry Nolan disliked him for some reason, so he didn't get the gig. I would have loved to have heard that line up.
Andy was in a Boston band called The Sidewinders. See below.
The Sidewinders


The Sidewinders were a Boston group whose one album appeared in 1972. It was produced by Lenny Kaye. It included future Paleys:Andy Paley and Eric Rose. It's another lost gem. Plenty of good guitar work and great songwriting by Andy.
I have never seen any pictures of them outside of the album cover, so I was so thrilled to get these four pictures from Jonathan.


Pic One - Pic Two - Pic Three - Pic Four .
Steve Nelson's Photos of The Sidewinders


Steve Nelson Is a local Boston Photographer and punk mucic fan. He was smart enough to know the good music when it was happening and the talent to take some great photos.

Steve Nelson exhibited his photos at the New England School of Art & Design in a one-man show called "The Square: Stills from the Scene, Harvard Square and Cambridge, 1967-1973.".

Here's a review of the show.

Here's Steve's photos with his explaination:

The close-up head shot of Andy was taken somewhere around Harvard Square in 1971 or 1972.... Andy

The performance shot was taken on the Fenway in Boston when they played as part of a free outdoor concert series called "Summerthing" sponsored by the City of Boston. I think this was 1971. This was the band's lineup for their recording session. .. Sidewinders on stage in color .

Same lineup in the group shot. It was taken in Cambridge in front of a house I think some of them lived in between Harvard and Central Squares (might have been Green Street). I was walking down the street and ran into them getting into or out of the car, so I asked them to hold on and let me get a shot. It was not a set-up group photo shoot, and this is the only shot I took. Click! Luckily it turned out OK. The date was probably 1971..... Sidewinders on street.

All photos are Copyright © 2003 Steve Nelson and not to be used without permission.
The First line up of The Paley Brothers included Steve Warren - bass, Mike Winger - guitar, Jimmy Wilkins - drums, with Andy and Johnathan.
Later when they toured with Shaun Cassidy, the band included members of the Nervous Eaters (the best of the early punk groups in Boston and great musicians) among others. The band line up would have been: Jeff Wilkinson - druns. Steve Calatdo - guitar, Rob Skeen - bass, Jeff Lass - piano, Eric Rose - guitar, plus Andy and Jonathan.
The Paley Brothers then played the local club The Paradise on September 8 and 9,1978 as an opener for Greg Kiln. It was pop heaven. I will never forget the harmonies, the songs, the sound of the group. Eric Rose was in top form. I would have to say that his playing that night was one of the highlights of guitar playing I have ever heard. His tone and his guitar voicings were the height of guitar artistry.
Pictures from the Paradise show...Jeff Lass on piano - Jonathan one - Jonathan two - Andy and Jonathan - Eric Rosenfeld (Rose) - Steve Cataldo - Andy Two - Andy Three - Jonathan Three.
I can give you a good idea how they sounded because they really did mirror the album in tone and content. It was everything the album was with all the benefits of a rawer live sound.
The Album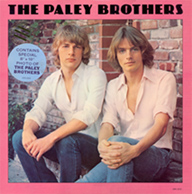 The Paley Brothers' promotions were targeted to the Teen Beat crowd, but their pop sophistication went way beyond that.
The album was produced by Earle Mankey in a Santa Monica studio in 1978. Both Andy and Jonathan played instruments along with Eric Rose on guitar. Others: Jeff Lass - Piano, Jan Uvena - Drums, Jim Haslip and Leigh Foxx on drums.
The overall feeling I always get from this album is that of quality musicians bringing superior chops and arranging skills to well written songs. The musicians fill in the frame of the songs with riffs and accents that gives the songs a depth not often associated with pop. They achieved the effects similiar to the famous studio group The Wrecking Crew.

No amount of writing is going to help describe Eric Rose's guitar playing. You simply have to hear the spectrum of tonalities he creates with his Telecaster . Much of his playing is like Jeff Beck at the time of the Truth album. Single note slashes and tasty chording highlight his playing. One of the best examples would be Stick With Me Baby.

Side Two is my favorite, but let's begin with side one, cut one.

You're The Best is a Andy Paley, Jonathan Paley and Eric Rose composition. It gives you the Paley Brothers 'sound' right off the bat. It illustrates how they added or dropped instruments to achieve interesting dynamics. The piano does a lot here.

Too Good To Be True has some wonderful fills and accents. The guitars go from a distorted flange to a trebly harp-like sound. And surprise, the solo break starts with a bass solo (the tone being that of Nitzsche's Lonely Surfer ) before giving in to some Eric Rose antics. A nicely written coda brings the song home.

I Heard the Bluebirds Sing is a country ditty written by Hod Pharis (?). Done in a Buddy Holly fashion. The chorus gives the Brothers a chance to trade off vocals.

On Magic Power they give it a bit more power. A double tracked guitar punch quickly introduces the change of dynamics. The underlining rhythm is that of Foxy Lady. Throughout the song is a 'winging' guitar effect which Eric used to get by yanking the string on the head stock near the tuning peg after he struck the note.

Turning The Tide is a power ballad with a brisk pace.A huge production sound. Amazing considering they only had six or seven people in the studio ...max.

Side Two

Stick With Me Baby has a tasty guitar intro with drum accents. The vocal harmony real strong right out of the gate. A well crafted guitar solo. The whole song is full of changing dynamics. Surprisingly, it's a Mel Tills song !
I do a lot of talking about songwriting and guitar playing. Let's look at some nuts and bolts here. This is a look at the intro to this song ....The Guitar Tab and Theory.

Tell Me Tonight begins with a tasty chord progression intro and bangs into a big drum Spector-like production. This is a delicious song written by Andy and Jonathan. A nice Rose solo in the middle and at the end a raspy sounding solo with an unusal riff of cascading intervals (fourths and fifths ?).

Lovin' Eyes Can't Lie is a ballad. It's all about the vocals. This illustrates the Paley Brothers vocal "sound".

Come Out And Play is the one song produced by Jimmy Iovine and recorded in New Jersey. A perfect pop confection. This is the stuff The Rubinoos et al are always shooting for.

Down the Line is a Buddy Holly song that they give a Yardbird Rave Up treatment, a la I'm A Man. Some nice string swoops by Eric who is very Jeff Beck sounding here.
After the Record
For months the Paley Brothers had photo features in Rock Scene magazine and Sixteen. Before the Paradise gig they played Madison Square Garden in NYC opening for Shaun Cassidy.The date was August 26, 1978 Here are pictures of Jonathan - Andy - Andy, Rob Skeen, Steve Cataldo on stage in Madison Square Garden. Here are some photos of the Paley Brothers during this era.
Magazines loved to talk about and do photo spreads on the Paleys.
They were staples in Rock Scene 1 - 2 - 3 and Sixteen 1 - 2.
At some point they gave up the group. Andy has produced and written songs for many acts, most notably - Brian Wilson. Here is a picture of him with Jonathan Richman and also Richman and a member of Earthquake in Berkeley.
The Jacques Cousteau Project

The Paleys have always kept busy with musical projects. Here is a one off thing they did in 1981. They did a single 45 RPM under the name The Young Jacques. The Songs were Jacques Cousteau and Sink Or Swim?
There are sixteen musicians on the single. Along with the Paleys are Easton, Robinson and Hawkes of the Cars, and Eric Lindgren, and Ralph Fatello.
Sink or Swim is a fun surf instrumental with a LOT of instruments in the arrangement.
Jacques Cousteau ,writen by Andy, is a funny salute to the marine biologist. It sounds like most of the music was kept in tact when Plastic Bertrand did the song . Andy worked with Plastic so maybe the Young Jacques was just ment to be a demo version.
Jonathan Paley
Jonathan has had quite an exciting life. Thanks to Jonathan we can look at some of it via the pictures he has sent to me.

After traveling around the Pacific Jonathan started working with Andy again, writing music for soundtracks, including Dick Tracy and Rage in Harlem as well as recording and performing live with Brian Wilson and other sessions.
Simultaneously he was working as a stand-in for other actors and getting occasional acting gigs himself. To get a more steady job he has become a Phlebotomist/ER Technician. This is to provide more security for providing for his beautiful daughter Violet. Nice to see someone with their priorities straight.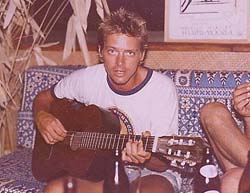 Current News
The song Come Out and Play has been included in a good collection of Power Pop songs called 20 Greats From the Golden Decade of Power Pop. Link to Power Pop album....CLICK

Jonathan Paley is on the new Nikki and the Corvette's CD called Wild Record Party that's out in Japan. He helps sing Love is Strange. Click Here for a picture of the cover with an insert blow up showing the Paley Lp in the album box.

Jonathan Paley is in a new movie out NOW September 2003. Here's a link to the site....www.girlin3d.com.

Andy Paley

Andy Paley has two songs on the SpongeBob SquarePants soundtrack. The Best Day Ever is a great song co-wrote by Andy that has a full detailed production only to be topped by an annoying cartoon voice. Under My Rock is also writen by Andy with a garage rock sound and another annoying voice ,but hey, we'll take anything these days.

This news brought to us by Kyle A Carrozza : Andy just did the score for the second season of Camp Lazlo on Cartoon Network (he did the first season as well), and will soon be scoring my Nickelodeon cartoon short, MooBeard the Cow Pirate. He and Tom Kenny did an excellent new Spongebob song called "Where's Gary?" for a recent promotion. There's other Spongebob news, but I'm sworn to secrecy. Andy offers his musical assistance to many Hollywood bands and comedy acts such as The Naked Trucker and T-Bones, The Girly Show, and The Breakups.

The Paley Brothers' information on the web is criminally sparse. I hope to rectify that here. If you have any info contact me and I will add it to this.




Copyright © 2003 Paul Lovell. All rights reserved.