Home | WLYN | WMBR | Boston Groupie News | Punk Photos | MP3's | Links
Jonathan Richman | Dogmatics Photo | Paley Brother's Story
Boston Sound Home Page
NEWS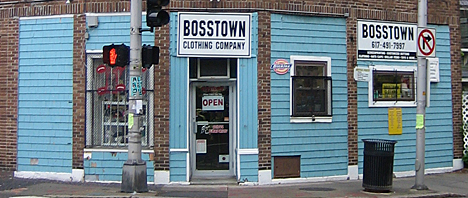 Boston still BOSSTOWN
This is a t-shirt printing shop on River St in Cambridge in 2012. 'Bosstown' still resonates it seems. http://www.bosstownclothing.com/
---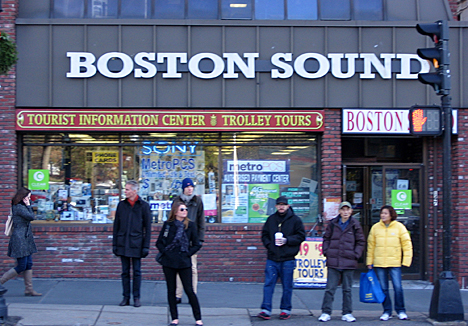 Phrase still used.
A store on Boylston Stree across to the Boston Common - 2012.
---
RIP John Lincoln Wright

.
John Lincoln Wright of the Beacon Street Union died on December 4, 2011. Obituary of John Lincoln Wright in the Boston Gobe. .
---
September 2010 - Ariel Pink is a current hip and trendy artist getting lots of attention. We'll see how long that lasts. The surprise is that he has done a version of Bright Lit, Blue Skies by The Ramrods (later to become Puff) and not just a version but a credible one at that. He captures the feeling of the original and the vocals are spot on.
The other songs become patchworks of styles and passages cobbled together. I like it some of the time but at other times he goes into disco territory and that is unpleasant.
---
There is a two part series on the Bosstown Sound in SHINDIG MAGAZINE. The first part is 8 pages. SHINDIG is a nice color glossy mag from England. The article is written by a Bosstown Sound fan Patrick Curren. It is an overview and reapraisal from someone who heard the music without being affected by the subsequent press backlash.
Many of the images are from this site. The first part came out in January 2010.
Re-releases and UPDATES
---
Beacon Street Union

As of February 2010 Cherry Red Records in England has released both the Beacon Street Union albums on CD. They have some very good liner notes with quotes from band members and pictures. It's well worth getting........ CHERRY RED RECORDS.
---
Ill Wind


This album has been released with a whole CD full (15 songs) of new material and most of that new material is very very good. The CD from Sunbeam Records comes with liner notes full of details. All other CD's of this have been bootlegged this is the first group approved version and they got it right.
---
Bo Grumpus


This album has been released on WOUNDED BIRD RECORDS
---
Earth Opera


Their first album has been released on WOUNDED BIRD RECORDS
---
Alan Lorber's Site


On ALAN LORBER'S SITE - IRIS Music you can get CD's of Orpheus, The Ultimate Spinach, Chameleon Church, Puff, Phluph and Front Page Review.
---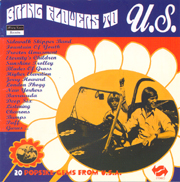 Bring Flowers to U.S. - Compilation.
This came out in vinyl in 2001 in a limited pressing of 500 and is now out on CD in 2009. It's a nice collection of flower psych. The twist here is that it's mostly songs from 45's.
For our interest there is Puff and Listening. The Puff song is Looking in My Window. Listening has Hello You. These are not easy singles to come by.
The Puff song is a pop delight and fits the CD perfectly. The Listening cut is popier than their album stuff. The whole CD is very good and worth getting if you are into the genre.
http://www.mistylane.it/...Link to record label site.
---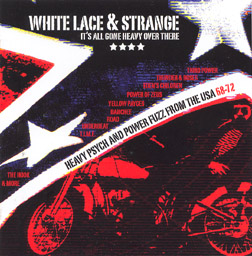 White Lace and Strange - Compilation.


Eden's Children is included on this compilation put together by Nick Saloman beter known as Bevis Frond. a modern day psych master himself. The idea behind this comp is that the groups are all post-psych and pre heavy metal which sounds about right. To my ears Eden's Children gets lost in the line up but that's the dannger of any compilation.
Also on the CD is a group called Banchee identified as from Boston but unknown to me and Brother Fox and the Tar Baby identified as a 'Bosstown' band also unkown to me. The CD ends with a cut from the Fort Mudge Memorial Dump a group whose name has been thrown around through the years. They are from outside the city but did play in the Boston clubs and had one album. They hold up very well here.
To me the CD is stolen by The Hook doing Dimples. It's the old John Lee Hooker song all pumped up with some fantastic down and dirty guitar solos. The guitarist sounds uninhibited and the guitar tone is nasty.

This was released in 2007 on Psychic Circle.

Another CD in the same series is out called The Room of Loud Sound. This CD has Eagle and their song Pack Up. Again I don't think they fit completly and their overall strengths don't come through on on song but it's nice to see them in a compilation.
---
Boston Sound Revisted-Vol 2. .


Here's a surprise for us in 2007, a Boston Sound compilation produced by Alan Lorber. It is a good listen with a few interesting left curves.
Here's a track by track look:

The Ultimate Spinach - Plastic Raincoats/Hung Up Minds
The upbeat hippie manifesto with the good keyboard action off the first album.
Orpheus- Just Got Back
This is off Orpheus Ascending but is minus the short intro which makes me think that it was an add on at the time.
Ford Theater - Theme For The Masses
One of their best. Good representative track.
The Ultimate Spinach III - World Has Just Begun
I gave this album the short shrift in on my Spinach page but this sounds good in this context. The snarly guitar is cool.
Rockin' Ramrods - Flowers In My Mind
This is where The Ramrods got hippie on us and sounded just great.
Orpheus - Little Sister
This was a welcome surprise. This is the song Orpheus did as the theme for the MGM movie "Marlowe". It has not been available until now. It's not essential Orpheus but nice to finally have access to it. Orchestrated up the wazoo.
Willie Alexander and Bagatelle - Everybody Knows
One of Willie's long time classics.
Chameleon Church - Camillia Is Changing
Wonderful psych ballad.
Steve Cataldo and Front Page Review
A lot of writing and maybe too much thinking went into this track. Several change ups mark this psychedelic mélange. Real trippy.
Colwell-Winfield Blues Band - Cold Wind Blues
Classic blues from the album.
The Ultimate Spinach - Fragmentary March of Green
This is from the second album, Behold and See. It's about twenty seconds shorter than the album version but there is no obvious cuts as far as I can tell. Has the "Reality, insanity, reality, insanity " chant at the end.
Stephen Martin - Big Green Pearl
It ends with a another twist. The Orpheus song is done in a solo version by Martin. It reinforces what a nice tune this is and the nice work Martin did on that last Orpheus album.
Outside of the Colwell-Winfield track the overall feeling is very trippy. It's a good compilation for the Boston Sound. It has those few surprises and like all Boston Sound comps it lets you hear what you don't have in your collection. I don't have the Front Page Review so I was glad to hear that.
The CD is from Iris Music which seems to be Alan Lorber's web base. IRIS MUSIC. You can get a few Boston Sound CD's there. They have an original PUFF LP (not CD mind you) for $90.00. That's the going rate.
Boston Sound Home Page
Home | WLYN | WMBR | Boston Groupie News | Punk Photos | MP3's | Links
Jonathan Richman | Dogmatics Photo | Paley Brother's Story
Copyright © 2007 Paul Lovell. All rights reserved.